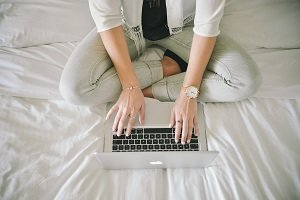 An autobiography essay can be one of the most intimidating assignments for a college student. Even if you're a strong writer, you can find it difficult to write about yourself. That's why you should use these free autobiography essay writing prompts to help you get started on your assignment. Each is a quotation from an interesting or important person, a quotation you can use to help you begin the process of writing your essay.
Autobiography Prompts
"Honesty is more than not lying, it is truth telling, truth speaking, truth living, and truth loving." – Faust
When writing an autobiography, be as honest as possible. While you may not be comfortable revealing certain information about yourself, the work will be much stronger if you're willing to be truthful.
"The art of writing is the art of discovering what you believe." – Gustave Flaubert
When you write about personal events in your own life, something interesting happens: you learn to look at them in new ways, and you discover the lessons you took away from those events. Approach your essay as if you are trying to learn as much about yourself as your reader is.
"To defend what you've written is a sign that you're alive." – William Zinsser
By the time you're finished with your autobiography, it should be something you feel so personally attached to that you're honestly proud of it. Don't be afraid to let your emotions take hold of the writing process every now and then.
"Honesty is the first chapter in the book of wisdom." – Thomas Jefferson
If you're willing to be honest with your reader, odds are good you'll arrive at a profound moral or piece of wisdom in your autobiography that will make it more memorable.
"The greatest gift of life is friendship." – Hubert H. Humphrey
Don't forget to write in detail about the important people in your life. They're the other characters in your autobiography, and without them, the essay will almost definitely be boring.
"Life is really simple, but we insist on making it complicated."
Writing an autobiography doesn't have to be a difficult task. When you realize that all you're honestly doing is telling the story of your life, it becomes much simpler.
"Don't let the noise of others' opinions drown out your inner voice. And most important, have the courage to follow your heart and intuition."
When you're writing about yourself, to some degree it's smart to trust your intuition instead of writing what you think is expected of you. You're telling your own life story, so tell it in your own way.
"He who is not courageous enough to take risks will accomplish nothing in life." – Muhammad Ali
Often, the lessons our lives teach us result from our willingness to take chances. For your autobiography essay, consider writing about an experience in your life when you were courageous, and share with the reader what you learned from it.
Again, an autobiography essay doesn't need to be as overwhelming as you might assume it will be. If you're having troubles getting started with yours, refer to these prompts. They'll help you realize what it is you want to write about.