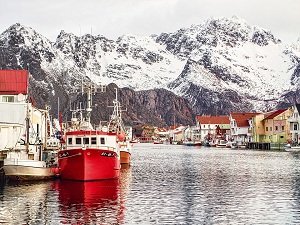 A narrative speech is a speech where you tell about any event which occurred in the past. It should differ from an informative speech or a narrative report. It should offer a moral lesson for your listeners, and the story itself is a mere illustration of the lesson learned. You will need the skill of presenting such stories in almost every area of life, irrelevant of whether you will become a politician, a scientist invited to deliver a TED speech, or a blogger. Below is an example of a narrative speech on a journey to another country.
I developed an interest toward Norway when I was still a child. Every fact I learned about it contributed greatly to my determination to visit it one day. For instance, the present-day Norway is a constitutional monarchy. At the same time, it is a strong player on the world's political scene. Oil-rich and prosperous, Norway has boasted the highest Legatum Prosperity Index for seven consequent years.
How did all this go along with those beautiful landscapes that you will likely bump into by googling "Norway"? I felt the appeal of this enigmatic land strongly and got determined to approach it. This is how I began my preparations for the journey of my life. Running ahead of my story, what I learned from this trip was that everything has its purpose and happens just at the right time.
Last year, me and my friend spent several weeks researching information for the upcoming trip. The hardest part was to decide what I wanted to see the most. I was eager to take a glimpse at everything at once; I was fussy. In the end, we have decided to start our journey in Oslo and then move north to Trondheim through Jotunheimen and Dovrefjell–Sunndalsfjella national parks. From there, we would get back to Oslo and board the plane home.
We landed in Oslo on a usual summer day; it was only 55 degrees. The city looked large and welcoming. We saw all the things that tourists needed to see: the Harbor, the Marina, and Astrup Fearnley Museum of Modern Art. Everything seemed so fascinating — the old blended with the new, progressive people, stunning art objects. But that was just the beginning.
The real journey started as we rented bikes. Over 300 miles to the north and back were ahead of us. It was mid-June, which meant we would never travel in the dark. I heard so much about Norway's sunny nights that I wanted badly to see them with my own eyes. That's why our trip lay to the north. The really cool thing was that you could ride your bike in the night. Just make a stop at the sunset to enjoy the view and grab a bite of something you bought in the last village — and you're ready to go. No need for bike lights.
It took us eight days to get to Trondheim. Our way was abundant with majestic landscapes — mountains, rivers, mountain lakes all along. We couldn't move faster not because we were tired, but because we wanted to stay in every place for a little longer and breathe it all in. At first, we felt lost in time because of the never-ending light day, but we then learned that time did not matter much. We used our cameras less and less, while we turned off the main road more often. The wonder was in every blade of grass, in every stone, and under every fallen tree branch. We didn't believe that photos could really communicate what we saw and felt while being there. It was pure experience.
In Trondheim, we had two days before boarding a train to the country's capital. During this time, we continued cycling in the surroundings, as if we wanted this entire Nordic experience last a little longer. Nevertheless, upon our arrival in Oslo, we suddenly realized that it was the same country with the same sunny nights and the same sea watching us closely. It all depends only on how we perceive our own immediate environment — as a continuation of something truly unique and natural, or as a generic home for thousands people. We noticed that Oslo wasn't a big fussy metropolis at all — patience was in the blood of Norwegians.
My trip to Norway was carefully planned and organized for several years. The journey itself took two weeks. Still, it felt like it was the other way around. Living a day amidst the northern country was like living a month at home. Not that it was boring — it was saturated with feelings, emotions, sensations, thoughts. What I understood was that, no matter how busy we are, there should be always time to stop and contemplate upon our environment — places and people that surround us — and feel ourselves a part of it all. Maybe we all lack this ability to accept the natural flow of time and adopt the feeling of belonging. Maybe when we stop chasing the time and mindlessly using our ecosystems (natural or urban), we will become wiser, happier, and richer. Like Norwegians.