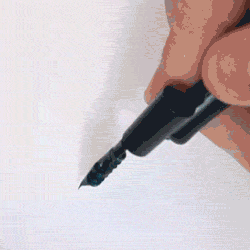 How many of us are handwriting our notes these days? Have you experienced that odd feeling when you take a pen and have a hard time manipulating it? Students have to hand in typed papers only, so that the professors do not spend a lot of time trying to decipher the piece. This results in our hands being not adjusted to a fountain pen in favor of a keyboard. What is the future of handwriting? Will it be completely forced out by the typed text, with our signatures being the only handwritten thing, or will it blend into the digital age somehow?
Alex Graves, of the University of Toronto, has taught a computer program to simulate handwriting.
He called it Neural Network Handwriting Generator. By using it, one can simply type a sentence or a phrase, and the program will turn it into a piece of handwriting. The user can adjust something called "bias", which affects the way the letters vary. The higher the bias, the nicer the result looks and the more readable it appears to us. The program also allows users to choose the number of handwritten samples they would like to see as a result — up to 5. Samples always differ, so the greater number one chooses, the more significant their variation. The results are displayed in the image format, one image per each sample.
Graves' computer program is trained with the help of a set of data — in this case, IAM Online Handwriting Database — to process certain information and generate result based on that data. A neural network can be described as a data-processing system which takes in particular signals, processes them, and fires a response. While a neural network originally refers to the system of neurons in our brain, artificial neural networks are machine learning systems. They differ in types of information they can process and, respectively, in their purpose.
Thus, Neural Network Handwriting Generator specifically processes typed characters, compares them to its database of handwriting, and generates a result in the form of hand-written text. What is interesting, the styles are never repeated. The program does not just copy the existing letters from its database, but uses information on actual pen-tip locations in the process of writing. Therefore, it is something completely different from the usual pre-designed fonts.
Everyone can demo-try the Neural Network Handwriting Generator on the University of Toronto.
Department of Computer Science webpage. Right now, the maximum text size is only 100 characters, which is why a person will need a graphic editor to put their short handwritten phrases together into a lengthy text. However, it is still possible to experiment with styles.
In the imagined future, when people have lost their handwriting skills, it might be a natural network that will teach people to write by hand again. Meanwhile, the Alex Graves' Neural Network Handwriting Generator can be used to design different styles and use them in typography. Everyone is welcome to create their own handwriting on the project's demo page.
This article has been written by WorldEssays.com writers.