A business report is an important tool for tracking company's business processes. Writing a business report template requires special analytical and writing skills. A business report template may cover all or particular areas of business operations. Preparing a business report may become a challenge for managers who simply may not know where to begin. However, if one has a good and well-structured business report template, the task becomes much easier.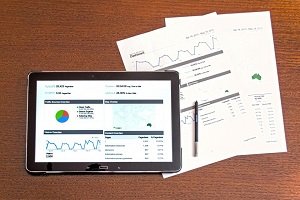 Writing business reports is an integral part of monitoring a company's performance. That is why compiling a business report may have different purposes. Typically, it is written in order to analyze a situation and produce solutions for its improvement. A good business report should examine all possible solutions to a situation or a problem, apply various management theories to analysis, analyze possible outcomes of all decisions, provide recommendations for future actions, and contain conclusions.
Business reports are the tools for communication in the modern business world; thus, they should be effective. In order to write an effective business report, the author should follow a specific plan. First of all, it is necessary to determine a type of a report (periodic, situational, feasibility, compliance, or investigative). The next step is the identification of its objectives, which should be stated very clearly; otherwise, the report will confuse its audience. If the report's purpose is to provide a solution for an issue, it should focus on the analysis of the problem and why it should be solved. Then, one has to identify the audience (whether it includes the company's employees or an outside party), its familiarity with the company and the issues discussed in the report, and the potential usefulness of the presented information. For example, if the target audience consists primarily of the company's investors, they will be interested in the information on its budget expenditures.
As soon as the audience is identified, one has to do the most difficult part of writing a business report, which is collecting data, its analysis, and drawing conclusions based on this data. This step requires good marketing and analytical skills. Data gathering also depends on the type of the report; therefore, it should be relevant to its topic. Data can be of two types: internal, which is easier to gather (sales figures or the percentage of hired employees), and external (analysis of customers).
A good business report should be well-organized. The data should be subdivided into several sections; that is, data related to the customer analysis should be written separately from the sales figures. All information should be organized under different subheadings so that it would be easy to read the report.
Conclusions are also an important part of any business report. It is crucial that a conclusion contains all the points mentioned in a report in a logical order. Besides, a proper conclusion contains recommendations concerning the actions one should take to solve a problem discussed in the report. The last but not least important part of any business report is an executive summary, which, though, should be written on the very first page. In fact, an executive summary provides a brief overview of an organization under analysis as well as the significant findings of the report. This part is equal to an abstract in a scholarly article and should not exceed the limit of 200-300 words.