To begin with, it is widely known that there are numerous documents used in the business sphere that regulate internal and external performance of companies and their cooperation with each other and governmental structures. Business sale agreement is among the most important documents as it introduces the guidelines and terms of such meaningful operation as a sale of a business. Therefore, it is necessary for one engaged in the business sphere to be familiar with the key points of a business sale agreement.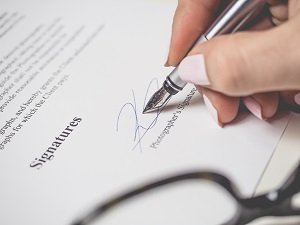 First of all, the purpose of a business sale agreement is to set the terms of a business selling operation that results in the passing of the ownership rights for a business from a seller to a buyer. As follows, this document includes information about both mentioned sides of this operation and a negotiant or a stakeholder in case such positions are presented in that situation. Moreover, a business sale agreement also covers such aspects of a selling operation as:
the price of it that is also named a goodwill,
the terms of the payout,
detailed information about a business or a part of a business that is an object of sale,
detailed, precise, and accurate list of the equipment and inventory that are included in the sold business,
files and other types of information that are valuable for the new business owner,
business contracts and confirmed selling orders that are a part of the sold business,
the trademarks that are included in the sold business and its full name.
Taking into consideration this information, one can assume that there are several rules and requirements for the creation of a business sale agreement. Firstly, it should be written in the academic language and contain the explanation of all terms that might be unclear. Secondly, it should include all points that were listed previously and are necessary for the certain business selling case. As follows, there is a critical need for the legal approval that is usually given by the lawyers that represent both sides of an agreement. Finally, before a business sale agreement becomes operative and rights for a business or a part of a business are delivered to its new owner, a business sale agreement should be ratified that happens when both sides of the contract, a seller and a buyer, sign the document.
All in all, there are such main clauses of a business sale agreement that, with some insignificant variations that appear due to the specificity of each case, are displayed in these documents:
the background of the operation that contains the main information about the sold business,
definitions of terms that are used in a document,
a sale agreement,
a purchase prise (a goodwill),
a closing that defines the date of the payout end,
terms of a payment operation,
seller's representations and warranties,
buyer's representations and warranties,
obligations of a seller,
obligations of a buyer,
terms of penalties that are applied in case any of sides fails to fulfill its obligations,
the governing law that regulates the operation.
This sample has been written by WorldEssays.com writers.