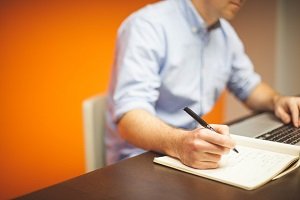 At some point during your studies, you will most likely encounter certain types of essays which are trickier than others to write. One of these is the character analysis essay, which students who have never had experience of writing such a kind of essay before, can find difficult. Viewing a sample essay is a great way to see the structure and requirements that your professor will be looking for before you get started. So, here is a sample character essay on Hamlet from 'Hamlet' by William Shakespeare:
"Hamlet" is one of William Shakespeare's most well-known and studied works, as well as one of the greatest tragedies ever written. Hamlet, the son of Queen Gertrude and the late King Hamlet, is the nephew of the present king, Claudius. Focusing on the young prince, the play follows his attempt to avenge his dead father's murder, while becoming obsessed, depressed and eventually driven mad.
Beginning with a fixation on gaining revenge, Hamlet procrastinates avenging his father's murder and begins to question his true motives behind his hatred of his uncle. Hamlet, continuing to be unsure of his uncle's guilt, stating: "Conscience makes cowards of us all." – and unwilling to cause hurt to his mother – Oedipus – with whom he shares complicated relationship, decides to prove his uncle's guilt once and for all. Setting up a play to resemble his father's murder – "The Play's the Thing, wherein I'll catch the conscience of the King." Hamlet feigns madness in order to discover the truth.
Hamlet's character shows signs of both cowardice and procrastination throughout the play – progressing deeper into his own obsession with his uncle and yet seemingly unable to act upon his suspicions. Hamlet appears, even to himself, as a man without a purpose in life – other than the need to act upon his father's murder. His relationship with his mother – who he believes has incestuously re-married his murderous uncle – is one of deep love and affection, at the same time as anger and resentment. Hamlet appears to have a generally complicated and distrusting relationship with the woman in his life, also rebutting Ophelia – the woman he formerly claimed to love.
He is an enigma – at times un-acting and procrastinating to the point of cowardice, whilst also being prone to rash decisions and bouts of impulsiveness. A student at university, Hamlet is perceived as intelligent, thoughtful and even philosophical – attempting to find answers to questions of life and death, love and hate.
The power of Hamlet lies in Shakespeare's ability to make the reader feel so many conflicting emotions towards one character. The complex nature of his character has made him one of the most studied names in literature – at times being angry, depressed and brooding and other times energetic, manic and mad. He is considered the people's hero – the Prince of Denmark – and yet he is a coward: alienated from his family, friends and loved ones. Hamlet's character continuously surprises and shocks readers, who are left feeling intrigued and fascinated by his many facets.
References:
The Complete Works of William Shakespeare. Shakespeare, W. "The Tragedy of Hamlet, Prince of Denmark"
E Notes. (2016). "How to Write a Character Analysis Insights."
Essay Pro. (2016) "How To Write A Character Analysis Essay"
WikiHow. (2016). "How to Write a Character Analysis"
Cliffs Notes. (2016) "Character Analysis Hamlet"
Meet, S.H. (2016). "Hamlet's Synopsis, Analysis, and All Seven Soliloquies"
Study.com. (2016). "Shakespeare's Hamlet: Character Analysis & Description"