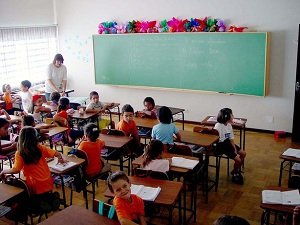 Methods of teaching is one of the primary topics any student undergoing teacher training has to deal with. It is no wonder that the majority of question arising in this field are in this or that way connected with misconceptions or wrong assumptions concerning this topic – which is exactly why any student willing to master it should pay special attention to grasping at least the basic theory of teaching methods and doing a lot of practice: for example, writing an essay about it.
A person who has only been on a receiving end of education often doesn't think about methods employed in this process. For them education is something that just happens to them, and they don't give extra thought to how it all is organized.
In reality, teaching methods are a complicated and multi-lateral issue, with many opposing schools of thought. When all's said and done, however, most teaching methods can be roughly subdivided into two groups: teacher-centric and student-centric.
Teacher-centric learning is also often referred to as the traditional educational model, because it is basically what we are all used to associate with teaching and studying. In this model, students are considered to be de-facto "empty vessels", passive receivers of knowledge and skills. It is a teacher's job to provide instruction and guidance for them, "filling up" these empty vessels in the process, and students are supposed to learn by listening to lectures, observing and copying the teacher's actions and in general subjecting themselves to the teacher's ultimate authority.
Student-centric approach to learning is a much more recent development, placing emphasis on students' participation in the educational process. This approach considers students to be not just objects but subjects of education as well, and teacher's role is viewed as not as that of instructor but facilitator and delegator. To simplify it a bit, a teacher doesn't provide one or another method of doing things that is already set in stone, but offers guidance and support so that students are capable to figure things out on their own, thus making them active participants of the process.
Another subtype of student-centric approach, the so-called cooperative learning, emphasizes teamwork: students are encouraged to work in groups and engage in reciprocal teaching. The teacher is not eliminated from the equation altogether, but his role, again, is that of facilitator and delegator rather than that of the one and only authority on every question. This method is based on the assumption that students learn best when they work and communicate with their peers.
It is important to understand that there are no good or bad methods of teaching. One can easily assume that teacher-centric approach is outdated, anachronistic and generally "bad", while the student-centric one is progressive and modern. However, they both have their areas of application. For example, teacher-centric methods far outpace student-centric ones in teaching fundamental skills.
In other words, both groups of teaching methods have their areas of application and can be used to great effect – if used appropriately.
This essay has been written by WorldEssays.com writers.
References:
Arnold, J. (1998). Towards more humanistic English teaching. ELT Journal, 52(3), pp.235-242.
Bligh, D. (2000). What's the use of lectures?. San Francisco: Jossey-Bass.
Cullen, R. (1998). Teacher talk and the classroom context. ELT Journal, 52(3), pp.179-187.
Dörnyei, Z. (2001). Motivational strategies in the language classroom. Cambridge: Cambridge University Press.
Gibbons, M. (2002). The self-directed learning handbook. San Francisco, Calif.: Jossey-Bass.
Legge, K. and Harari, P. (2000). Psychology and education. Oxford: Heinemann.
Wiseman, A. and Anderson, E. (n.d.). Annual review of comparative and international education 2014.