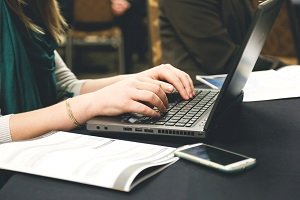 The Internet is a wonderful resource for students. No matter what subject you're studying, you'll be able to easily find websites and services designed to help you succeed in your classes. This is as true for a chemistry student as it is for an English major.
If you're looking for chemistry online help, you do not have to look far.
Useful Websites
Chemistry can be a difficult subject, especially when you have writing assignments to complete. While you may be able to get some help on campus by visiting your professor during office hours or seeking advice from a tutor, those are two very time-consuming methods. You're better off turning to the Internet to get the help you need. The following are five websites you'll find useful:
Virtual Textbook of Organic Chemistry
This website is exactly what it sounds like. It offers students an exhaustive Table of Contents linking them to info on a wide range of organic chemistry topics. Because it's run by Michigan State University, you can be confident that the information provided is absolutely reliable.
Dynamic Periodic Table of Elements
The Periodic Table of Elements is an essential reference for all chemistry students. This online version is interactive, allowing users to adjust factors like the temperature (virtually, of course) to demonstrate how doing so would affect a given element.
ReactToMe
Memorizing metabolic pathways is tedious and difficult, but many chemistry students find that it's required of them. Instead of wasting time trying to commit them to memory, use this online resource instead. Doing so is an especially good idea if you're working on a writing assignment. You'll save a lot of time that you can use on research, formatting, etc.
About Education – Chemistry
Often, chemistry students are also general education students. If they don't choose to work in a lab, they may instead choose to teach chemistry in schools. These students are typically asked to not only complete the basic chemistry assignments but to also draft lesson plans and sample projects that they might assign to their own future students. This helpful online resource will give you plenty of ideas if you find yourself doing this type of work.
Chemistry Views
Odds are good that during your time as a chemistry student, you'll be assigned a paper or project which requires you to cover recent developments in the field. Unfortunately, this subject isn't usually reported on frequently by the mainstream media. When it is, they tend not to go into the kind of specific detail your professor will expect of you. This website links to numerous stories that will help you get ideas for your own project. It's a great tool to use for your initial research.
When you're a chemist, you're frequently required to come up with new and unique solutions to problems. This means using all the tools available to you. Start now during your time as a student. If you're struggling with an assignment for one of your chemistry classes, don't simply rely on campus resources. Remember, sometimes the best help is available online.