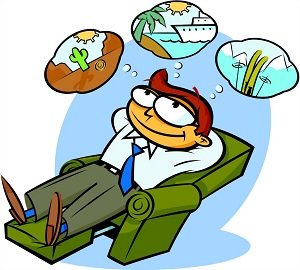 Once the college is out for hot summer, all that students are in need of is just to sit back and have the laziest time of the year. But, the thing is that wild spending during the long vacation will 100% burn all the savings you have successfully gathered. Well… you are definitely in need of a well-balanced vacation. But a week or a month into this yawn will bore you down. And the students exhausted after a tough academic year need to try something new. After all, that's what the vacations are there for! Here are some hot tips on how to spend the best vacation ever and save more during your desired break!
Why not to take up a job?
There are tons of companies and small firms that gladly hire students for the summer season. The majority of companies have to deal with one and the same problem every summer – existing personnel having summer vacationing with the members of their families. Thus, it's time for the students to take up a job! Who's there hiring young people? Everyone and everywhere! Those, who can boast of profound knowledge and skills within a particular area, have an opportunity to leverage them! Ad companies, hospitals, newspapers…New experience is just around the corner!
Pay less for the shelter!
The students who live alone should definitely think about sharing their place for 2 or 3 months with a pal in order to split the costs for the rent. Those who think about living in the dorms will be more than just happy sharing a comfy room for some time.
Free is just out there!
Free reading events organized by the library, free shows in the parks, open festivals, comedy club, marathons and tea services free of charge are just a little part of all the events available for free in the summer season. Local newspapers are the best way to know where to go being penniless!
Adventure hunting is a must!
The world is waiting for us to open it up! All those students, who are of the adventurous type, will be happy to dive into the never-ending ocean of the world exploration! Hunting for the places you have never been to and perform adventure sports will make the vacation a perfect memory. It could be the mountain hiking that is available only in summer.
Volunteering & helping the others
Socially conscious individuals will find volunteering a very good idea. There are many voluntary social agencies that are in need of young hearts ready to contribute and care. Especially those, who co-work with the street kids and teens.
Learning is always welcome!
Who said that summer vacation is not the right time for learning? Getting a new useful skill is interesting. Let it be communication skill, mastering the new language, taking JAVA course – these have become essential for almost every student nowadays. Something that helps to become better, smarter and more educated will always do much for one's life!
This article has been written by WorldEssays.com writers.