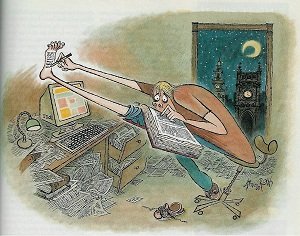 A "nightmare before exam", you may say. Students surrounded by tons of books, notebooks and journals, trying to race against time – this is a typical thing before the exams. The majority of students feel some sort of depression when it's time to face with the examination period. Nervousness, fear and anxiety are usually entailed right before the final exams. These tests are crucial because they decide whether you proceed to the next course or you need to repeat the previous one.
Many months of hard academic work culminate into the outcome of the final exams. In case you fail to pass them, the entire year is completely lost. Students who never utilize the time they have throughout the academic year suffer the most. They try to work magic – to go through the whole year's program of study in 2-3 days. Sounds fantastic! These efforts usually result in exhaustion, demoralization and complete loss of sleep, confidence in one's knowledge and capabilities.
Yet another side of the Moon is that of college or university students engaged in high prayers to God or whoever there may be. Appeasing someone from above and hoping for the intervention from heaven is one of the most common ways of behavior among those who face with the examinations. Some needy students are driven by the endless fear of getting low grades that results in absolutely unfair means. The night before the day X is spent in desperate preparation for the upcoming hell. Tiny chits to make use of while the examination are made and carefully hidden wherever one can imagine.
As a rule, the exams bring various reactions among the college and university students. Nonetheless, most students are filled with fear and depression. While the A+ students can't imagine their lives without the 1st place, those who are weak hope to at least get any grade possible.
Is there any way of coping with the desperation caused by the academic tests? Sure, there is! The fear of college exams can be easily tackled by devotion, step-by-step planning, determinations and many days of hard work. Balancing the routine with the studies should be performed on a regular basis. The number one solution to a restless, coffee-addicted and sleepless night before the exam is the 100% completing of the academic course in a phased and well-planned manner. This will help the needy ones to feel more comfortable about the exam and save their nerves.
The day before the final exam should be dedicated to the multiple revisions. It is highly recommended to have a healthy (early) dinner and lots of good sleep before the important day. The point is that having a sleepless night right before the test will add to the fatigue levels. Fresh mind is half of the battle for the successful exam. An energetic and open-minded student will get better results than those, who are fatigue as hell.