Money buy happiness essay will trace one of the most controversial questions of human life: whether it is possible to buy happiness for money. This issue is being raised over centuries as people always aim to be happy and this desire is actually a part of their nature. At the same time, most individuals strongly believe that happiness has less in common with money or any other material values. In this essay, I will try to argue my personal opinion that in reality money can buy happiness.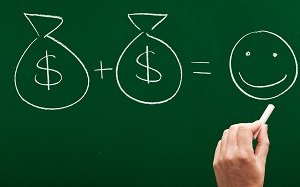 To start with, the state of human soul is determined by the one's attitude to all things around. In this context, it is essential to understand that an individual can become happy due to money only in case he or she purposes happiness but not wealth. This question is about the personal priorities that shape human lives and destinies much more than actual circumstances they live in. I strongly believe money can make people happy if they treat them as a tool but not an ultimate goal.
Firstly, people who have money have greater perspectives to live a comfort and worthy life. They do not need to constantly focus on problem-solving and decision-making related to their daily needs, such as food and accommodation. If an individual has money the one does not have to make oneself go to the unwanted job or perform duties that are humiliating to person's dignity. Otherwise, the individual who is not treated as a personality or experiences the lack of respect from others cannot feel completely happy.
Also, money can provide humans with the ability to do what they like. Indeed, the people who enjoy traveling can devote much time to exploring new areas; the individual who likes visiting theater and exhibitions can do that; the people who enjoy spending time with their family can take their kids to a lot of exciting places and share true pleasure with them. Otherwise, a person with no money can hardly spend much time with the one's hobby and is forced to think about more trivial things.
Besides, money can make people happier as they give the priceless and really pleasant possibility to help others. Happiness in nothing if there is nobody to share it or if people around are unhappy. In this case, an individual who has money can solve some problems and difficulties experienced by others and share happiness with them. Money given for treatment or charity, spent on food for homeless cats and dogs, given to a random roofless person make others feel a bit better and thus happier. Doubtless, in this strategy, the true objective of the full human being is hidden.
In conclusion, money buys happiness for those who can use them with worthy purpose and never treats as a final goal. Money gives humans more perspectives and thus may provide them a life full of joy, care, and mutual aid. Thus, they can contribute to the happiness of others that is truly a well-tried and worthy way to become happy.
References
Blanchflower, D. G., & Oswald, A. J. (2004). Money, sex and happiness: An empirical study. The Scandinavian Journal of Economics, 106(3), 393-415.
DeVoe, S. E., & Pfeffer, J. (2009). When is happiness about how much you earn? The effect of hourly payment on the money–happiness connection. Personality and Social Psychology Bulletin.
Dunn, E. W., Aknin, L. B., & Norton, M. I. (2008). Spending money on others promotes happiness. Science, 319(5870), 1687-1688.
McBride, M. (2010). Money, happiness, and aspirations: An experimental study. Journal of economic behavior & organization, 74(3), 262-276.
de Vries, M. F. K. (2016). Sex, Money, Happiness, and Death: The Quest for Authenticity. Springer.
This essay has been written by WorldEssays.com writers.