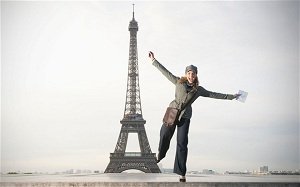 Last summer was the most amazing one I have ever had in my life! And I'm not going to lie – I want the time back and go through all of this once again. First of all, I was on my summer vacation, which is already a great "plus" for you have neither classes nor duty to wake up early in the morning every single day. And second, it was warm and the weather was all about enjoying every minute of free summer!
The trip to the City of Light was planned carefully and in all related details. Me and my best friend took into account every single moment in order to have a never-to-be-forgotten traveling. We booked tickets, chose the hotel, bought a detailed map of the city with all the famous places in order to be ready to dive into the global capital of haute couture!
The day we were supposed to set off we got to know the weather in Paris was rainy, which means we had to re-pack our stuff in order to have enough clothes that are suitable the weather conditions. I'm not a big fan of long-lasting flights, but this time everything ran smoothly and I quickly got used to the plane. In some hours we were in France!
We easily found the place, where we were supposed to spend our vacation – the hotel called "Hôtel Hélios Opéra". A really comfy and home looking place located in the rue de la Victoire. The staff was really friendly with us and I finally had an opportunity to practice my French. It turned out that it was pretty good, I must say. Just a quick shower and with a fresh mind we were ready to have a date with the city!
The first day we dedicated to La Tour Eiffel and the place called Les Champs-Élysées. The famous Avenue des Champs-Élysées is a well known boulevard that is 1,9 km long and 70 m wide and is located in the 8th arrondissement of the city. The place is famous, first of all, for its cafés, theaters and the luxury shops. What is more, each year a military parade takes place exactly here. As for La Tour Eiffel, I guess, this place does not need any introduction! The symbol of France is sparkling with a bunch of lights as the night falls and the view is terrific! Here and there you can see couples in love, cuddling and watching the massive construction. It's a really nice place to meet your friends or to have a romantic promenade with the one you love.
As the day was slowly flowing into the nights, we were pretty tired. Plus, we were ready to sell our souls for some food. There are thousands of cafés and restaurants in Paris! No matter what preferences you have – you will definitely find what suits you the most. We picked a small café near our hotel. As we got to know, the place was a family-owned one and belonged to a kind and friendly man Jacque and his family. The Mediterranean cuisine presented on the menu was just what the doctor ordered! We had two big dishes full of sweet and sour Sicilian rabbit stew and a glass of red wine. That was a perfect ending for a perfect first day in one of the most beautiful cities on the globe. As we were done with the dinner, we thanked Jacque and made our way to the Moulin Rouge…The great time was just ahead!
This essay has been written by WorldEssays.com writers.