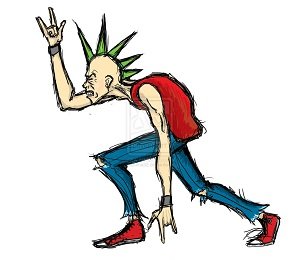 What Punk Rock? Lyrically, Punk Rock is the music style that is strongly associated with freedom. The artists representing the genre have an opportunity to fearlessly express what is inside of them without being criticized for what they think or do. Besides that, the majority of Punk Rock singers are absolutely free and they do not hesitate when it comes down to trying something extraordinary and new or to exploring brand-new styles.
We all have been faced with the fact that a lot of modern pop singers who were really harsh in their unfavorable political viewpoints, were actually condemned for their views. At the same time, singers like Anti-flag or Clash have been successfully expressing their opposition to politics and social norms for many years, absolutely free from media criticism. This is the essence of Punk Rock – controversy! The movement was born in the late of 1970s, when the bands like Sex Pistols went against the norm. Being more than just a style of music, Punk Rock is a chance for every musician to stand against the authority, to express feelings and challenge the fans to have their own viewpoints, free from the outside control.
Since its birth, this music style was widely developed in various directions. Having so much creativity freedom, the Punk Rock bands go on musically reinventing the genre. From the Misfits to Saves the Day, the genre provides its listeners with a great variety of lyrical and musical styles. Being divided into many sub-genres (ska, emo, pop punk, hardcore) Punk Rock has something to give to each taste.
If you take a look at those musicians, who are en vogue today, you may wonder if they would ever be on the stage if they had no physical attraction. As for the Punk Rock, it still favors talent and creativity over glam outfits and perfect bodies. But together with that, it definitely has its sex appeal, clearly seen in Vice Squads Beki Bondage and Bouncing Souls Greg Attonito.
Taking into consideration that each music style has its own unique advantages, only Punk Rock gives you freedom the other popular genres can't. Whether you're the biggest fan of Punk Rock or you give preference to rap, you have to appreciate the refreshing freedom and lyrical creativity offered by Punk Rock bands.
Back to the 1980s, when a lot of people were sure Punk Rock was dead, it still continued to grow and turn into the major underground style. Even though the majority of the singers are not likely to gain the worldwide general public recognition or financial success, they will continue to make the music that goes from the bottom of their hearts. Every single day another young music fan is delighted by the Punk Rock music, which proves that Punk Rock will stay with us for years.
This article has been written by WorldEssays.com writers.