The essay is an inevitable part of any educational process. During their study, pupils and students will encounter with a necessity to write essays on different topics. Save water essay is one of many essay examples from WorldEssays.com. Save water essay is about an important role of water in our lives, why do we need to save water, and how can we save water.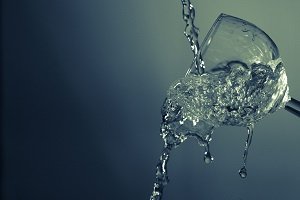 There were a lot of talks about water, nevertheless, there are so little to say when it comes to a question what do people know about water. Surprisingly, but the water is still the most poorly known nature's matter. Obviously, this is due to the fact that water is omnipresent: it is all around us, above us, below us and in us. Water is many-sided and its features are endless. At first glance, water is a simple chemical compound of hydrogen and oxygen, but, at the same time, water is the basis of life on Earth. Water itself has no nutritional value, but it is an indispensable component of all living things.
A certain and constant water maintenance is one of the necessary conditions for the existence of a living organism. In case if an amount of water consumed is changed, as well as its composition of salt, it would violate the processes of digestion and assimilation of food, and blood formation. Without water, regulation of the body's heat exchange with the environment and the maintenance of a constant body temperature are impossible. A person can live without water only a few days. The loss of water up to 2% of body weight (1-1.5 liters) is a reason of a thirst, the loss of 6-8% is a reason of the semiconscious state, the shortage of 10% is a reason of hallucinations and impaired swallowing. A death occurs when a loss of water is more than 12% of body weight. Therefore, saving water is a matter of great importance.
Mankind needs to joint efforts in order to deal with water pollution, but everyone separately might be the reason that the amount of drinking water is getting smaller every day. Below is a list of things that everyone can do and save water:
In the first place, repair or replace any leaking taps. This can save from 30 to 200 liters of water per day.
Turn off the water when brushing your teeth or shaving. In this case, you can save 6-15 liters of water per minute.
The shower requires less water than a bathtub.
When washing dishes do not keep the tap running constantly. Turn on water only after soaping all dishes or wash all dishes with a small rush of water.
Use the washing machine and dishwasher only when it is fully loaded.
Do not thaw frozen food under running water from the tap. It is best to pre-shift foods from the freezer to the refrigerator.
Do not wash your car every day. Use the services of a car wash, where every car consumes considerably less amount of water. In addition, the chemicals that are used while washing your car, do not pollute the environment and remain on the floor of the car wash.
References
Allin, C. (2012). Water and water pollution. Ipswich, MA: Salem Press.
Walker, C. (2011, January 25). Why Is Water Important in a Human's Daily Life? http://www.livestrong.com/article/366016-why-is-water-important-in-a-humans- daily-life/
Top five reasons why water is important to our everyday life | Water Technology Online. (2013, July 10). http://www.watertechonline.com/top-five-reasons-why-water-is- important-to-our-everyday-life/