The first thing every student of high school gets to know is essay writing as the activity which helps teachers to evaluate students' level of general knowledge, writing techniques and literacy. School essay is an assignment which will further develop in more complex essays and papers in college and university. Therefore, it is significant for school students to acquire proper writing skills to become successful in higher educational institutions because essay writing is a top leading task student do during their academic careers. This essay about journalism is an example of school essay which consists of introduction, body, and conclusion and also includes the personal opinion on the issue, which is suitable for high school writing.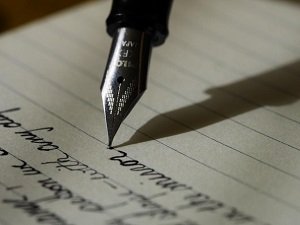 It is hard to overestimate the role of mass media in our society because wherever we approach we always meet a "footprint" of journalists' work. When we go along the street, we read the letterings on the billboards. When we go shopping, we find the advertising brochures on each cashier's desk, and, finally. when we surf the Internet, piles of information try to penetrate into our consciousness and somehow change the way we used to think.
Unfortunately, we cannot rely on every article we read in the magazine or newspaper because most of the journalists are no longer honest sources of knowledge. To my mind, the essential problem of the present-day journalism is that it speaks when it is better to keep silence and stays speechless when it is necessary to speak. Personally, I prefer to think that true journalists have to be objective, unbiased and uncompromised. A real professional has to have a coldness of head and be able not to make personal remarks. Moreover, I believe that it is possible to be a good journalist if journalists stop revealing facts, which are not really necessary to be told to the general public. These are the ones from personal life of celebrities and other famous people. It would help journalists to reduce the number of their potential enemies and make their work seem more meaningful.
As a matter of fact, journalists are those people who are meant to enlighten the public and bring positive results in the mental and intellectual social development. They have the necessary power and possess all means to make this world a better place to live. Therefore, the only way to make journalism's inability be silent a virtue is to make journalists be useful for our society. Indeed, many people read news and magazines just for fun and entertainment because they know that much serious information is not trustworthy. All mass media sources have become the garbage bin filled with gossips, scandals, and lies, while to find a decent one is a real problem.
To sum up, I would like to tell that journalists can easily turn their faults into virtues if only they learn to respect the power of the word. They never have to stay silent but they need to be able to present important information and avoid the one which should not take place in the people's minds. Having the opportunity to bring useful things to light is a treasure which is in the possession of journalists. Faults might happen when this "weapon" comes to the prentice hands of an unprofessional journalist. Unfortunately, we cannot directly affect the situation, but journalists can change themselves for the better. Of course, it is impossible to be a good guy for everyone, but it is possible enough to become a respectable journalist.