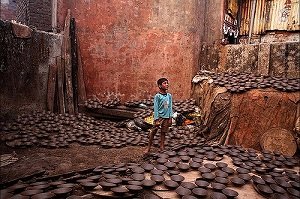 When Pavitra was shipped to Oman, she was assigned to an employer to tend after his home. She was raped multiple times by the man she worked for, which resulted in her pregnancy. Instead of finding justice, Pavitra found judgment and imprisonment for extramarital sex. There are many stories like this in the modern world. There are 27 million of human trafficking  victims who find themselves unprotected by local laws, with no means for independent living and, instead, full dependence on those to whom they "belong". In 2014, cases of humans sold and bought were reported in 124 countries. The victims came from 152 countries and nationalities. About 70% of all trafficked people are women, and every one in 3 is a child.
Human trafficking occurs when people are forced to leave their homes and environments due to the threat to their lives or lives of their relatives. Modern slavery, as human trafficking is also called, is a global problem that omits no country in the present-day world. Often, people are transported within the borders of their home countries, but even more often, they leave their homes for places where others are ready to pay for them. The USA, Europe, and other developed parts of the world are no exclusion from the shameful list of regions where human trafficking persists.
There are various spheres where people are placed. Accordingly, there are various types of human trafficking, such as sex trafficking, debt bondage, and forced labor. About 53% of all victims of trafficking find themselves in the sex industry. Among them, 80% are women and girls, and the rest are men and young boys. Often, women from depressive environments are promised employment in other more developed countries as hostesses or waitresses. Once the paperwork is done and the border is crossed, their documents are evicted and women are forced to offer sex for money which they do not get eventually. Sometimes, children from orphanages or those living on streets are forced into sex labor after being promised a better life.
Another type of trafficking is debt bondage. It occurs when people cannot pay out their debt and are, therefore, threatened to lose their belongings, home, or family members, if they do not get the money. With no possibility to find the needed amount, they agree to work which they are offered. As a result, they are sold to owners of sweatshops and other facilities where they work overtime and see no money. These people cannot file any complaints against their 'employers' because of the persisting threats to harm their families or kill the victim.
Forced labor is often associated with two other types of human trafficking. It can be a result of debt bondage or it can refer to the sex industry. Another typical case of forcing a person into labor is when poor parents from an underdeveloped country cannot look after their child and seek a possibility to give him or her away for adoption. Sometimes, they are offered money for their child. Often, these children are used as cheap workforce on fields, in factories, or plants.
There are neither 'worse' nor 'better' types of human trafficking; all of them cause great harm to the victim's personality, result in social deprivation or a psychological trauma. This is why survivors of modern slavery should be able to seek and find proper help from both governmental and non-governmental organizations. Any cases of trafficking should be investigated, and the abusers should be prosecuted. Moreover, all the world's countries should unite and fight modern slavery together.
This essay has been written by WorldEssays.com writers.
References:
Bales K, Trodd Z, Williamson AK. Modern Slavery: The Secret World of 27 Million People. Oneworld, 2009.
Global Report on Trafficking in Persons. United Nations Office on Drugs and Crime, 2014.
Jansson DB. Modern Slavery: A Comparative Study of the Definition of Trafficking in Persons. Martinus Nijhoff Publishers, 2014.
McClain NM, & Garrity SE. "Sex trafficking and the exploitation of adolescents". JOGNN, 2011.
Shelley L. Human Trafficking: A Global Perspective. Cambridge University Press, 2010.
Territo L, Kirkham G. International Sex Trafficking of Women & Children: Understanding the Global Epidemic. Looseleaf Law Publications, 2010.
Trafficking in Persons Report. The United States of America Department of State, July 2015.