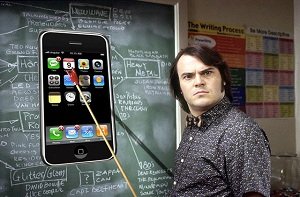 Being a college student can be pretty tiresome sometimes, especially when you are required to absorb a great amount of information related to your studies. However, we live in the era, when gathering information is as easy as pie! Taking into account the number of various apps available nowadays for the phones and laptops, students can stay on track in the process of studying. Let us take a look at the top 10 apps for students to make the academic routine more enjoyable.
Another Writing App
The special thing about this app is that the user cannot see what he's writing till the moment, when he reaches the word goal. In other words, Another Writing App enables you to spill your thoughts continuously instead of getting back and changing something.
ColdTurkey
This app is a must have! It is a so called self control invented for the system of Windows. It blocks the games and various social media web sites for a set period of time and thus, you have an opportunity to work instead of procrastinating.
Wakerupper
It's hard to call it an app because it was made as a phone call to wake the student up when he has an important test or an exam. What is more, the user also has an opportunity to put the Wakerupper in a reminder of what he must be doing.
Lighthead
The reason why many students do not attend local libraries or bookshops lies in the opportunity to surf the web and find information online. However, in case you spend some time reading educational material in your PC, at some point your laptop will fall asleep. Due to the Lighthead you PC will stay "awake" while you are reading (even though you do not move the mouse).
Studious
This is a free app for Android that can help you to become more studious due to its option that can silence your phone while you're in a class. Besides, this app provides you with an opportunity to save your class schedule as well as track tests and assignments.
Hemingway Editor
Using this simple app will enable you to have your paper cleaned up. It points out the aspects that you have to correct or chance. In other words, it literally highlights he sentences segments that are too long or the words that should be changed.
Squirt
While using this simple app you will be able to read one word at time. In case you find it hard to concentrate on things, Squirt will be very useful.
Focusbar
This item will serve as a reminder of what you must do when you begin to procrastinate or focus on something else. In other words, Focusbar will be there with you while you're working on some project till the moment, when you finish up.
Zombies, Run!
If you find fitness extremely boring, make sure to have the Zombies, Run! App! It will become a fun way to push you to jog. The app plays your favourite songs while depicting a zombie apocalypse that you must run from (otherwise you get infected!). A stunning work-out for those who spend too much time studying!
Final Grade Calculator
Make sure to input the scores of your exams and tests into the system and it will calculate your final grade depending on what else you have to cope with in the process of education.
This article has been written by WorldEssays.com writers.