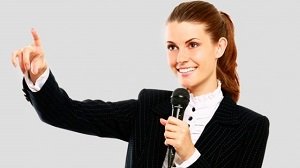 An impromptu speech is the most natural and potentially most powerful and effective way of delivery – but it comes at a cost of requiring a considerable level of skill and, oxymoronic as it may sound, preparation. Most extemporaneous speech samples show that their authors haven't actually delivered them spontaneously – but they weren't learnt by heart as well. The secret of extemporaneous delivery is in maintaining a careful balance between the two – and here are some rules that can help you learn how it should be done.
1. Organize Your Ideas
If you don't want your speech to turn into a rambling mess, you should take pains to organize your thoughts and ideas before you begin. There are two basic ways to do so – outlining and concept mapping. An outline is a list of items or topics to cover, each of which is divided into several sub-items, thus allowing you to remember the entire structure of your speech just by taking a quick glance at your notes.
Concept mapping is a graphical representation of what ideas the speech should contain – basically, it is a diagram showing individual concepts and lines connecting them. This is an excellent way for more spatially oriented people, as it helps quickly to understand the relationships between different items.
2. Practice and Rehearse
If you expect to be able to talk on the topic freely just by preparing a few notes, you are going to be greatly disappointed and embarrassed once you stand in front of the audience. This is just an item that deals with many people, stealing confidence from the best of them. Thus, it means that you should deliver your speech several times while imagining that you are in front of an audience. For extra authenticity, ask a couple of friends to listen to your delivery and comment on it.
3. Anticipate
Sometimes an impromptu speech has to be really done off the cuff. However, it doesn't cancel out the fact that in most cases you can anticipate to be called out to deliver a speech and have an outline of a topic in your mind before it happens. So, take notice of your surroundings and situations, try to be ready to talk when you are asked.
4. Q&A
If your performance has to fill more than 20-30 minutes, it may not be wise even to attempt a speech in its traditional sense. It's more than likely that you will run out of words long before your allotted time is passed away, in addition to making your audience bored. Try either peppering your speech with offering the audience to ask questions, or turn its latter part into a full-fledged Q&A session – it will keep the listeners on their heels and will add that extra interactivity to the proceedings that is always so useful.
An impromptu speech doesn't have to be a frightening or embarrassing prospect – if you know what you are doing, it can be pleasant both for you and your listeners.