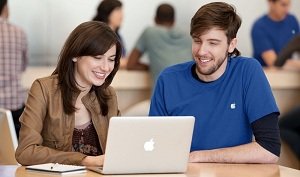 If you're stuck between choosing group learning and tête-à-tête tutoring, it's better to keep in mind that learning must be rewarding. While some professors manage to work for everyone in a class, the majority of them have no opportunity to focus on every student. In case you're having problems with understanding some of the academic concepts, one-on-one tutoring is the option to consider.
First of all, there are many benefits of tutoring in contrast to the class learning. The process itself is more focused and flexible than the group tutoring. While studying with the group of students you will have to concentrate on more general concepts. Your tutor may teach material that you or your classmates are already aware of. This means you will have to waste your precious time. When dealing with the tutor tête-à-tête, you have a chance to work out the learning plan that will both suit you and help you learn more efficiently.
In case a college student finds it hard to understand this or that concept, his personal tutor can physically spend more hours or even days providing the right explanations on the material in the most understandable manner. Moreover, students can get professional help with several disciplines at once. For instance, in case the student has a Biology and English test the next day, but knows these subjects are his or her Achilles' heel, you the basic concepts of both disciplines can be revised with help of the tutor.
Private tutoring is a great opportunity to keep the student 100% concentrated on the subject, allowing one to use personal spare time in the most efficient manner. When at college, the majority of people are more concerned on what their classmates are up to. Being afraid to look stupid in the eyes of their peers, students prefer not to ask any additional questions regarding the material delivered in the class. A lot of college and university professors confess that their students are more likely to get distracted by their friends as well as get engaged in conversations. Face-to-face communication with tutor will cut any sort of distractions, giving students a chance to work on academic matters.
Among other benefits of tutoring is the fact that every college student is free to select a professor that, as he believes, is competent enough to share his knowledge with others. The private session brings much joy and fun and more tasks can be completed if the student likes the tutor and is sure about his skills. Instead of thinking about how bad his tutor is, the student will be more engaged in the educational process.
Tutoring provides college students with a bunch of opportunities, without making the lessons boring just like the group classes do. When a dedicated person can provide them with positive encouragement, reinforcement, constructive feedbacks and excellent professional experience, they are more accountable for what they do. That is why the essential step in improving academic progress is to look for one-to-one tutoring outside of the classroom.
This article has been written by WorldEssays.com writers.