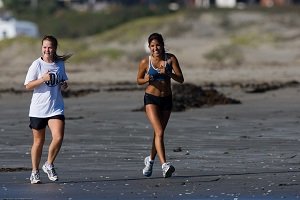 When going to college there is always a difficult transition period. You need to remember a lot of new things and adjust to new conditions. It is obvious that with all that multitasking there will be a few things you are going to neglect. Having only so much energy left you would probably forget to stay fit college. While it's your choice to make, we recommend you to keep exercising and further will give a piece of advice on how to do it time-effectively.
Make a Realistic Fitness Plan.
This means that you don't bite more than can chew under the given circumstances. It can be demoralizing to underperform due to fatigue in classes but don't push yourself too hard.
Don't Push Yourself too Hard
Are you losing or gaining? Make that distinction. If you are gaining you need keep eating in order to succeed. Remember that it takes only one gym workout session a week to maintain your shape, lasting no longer than 1 hour and 30 minutes. Taking longer than that will reduce your immune system. Recreational athletes have the highest defense, with bodybuilders being the most vulnerable and couch potatoes somewhere in the middle. Bear that in mind. It is still a gradual progression even if you don't dedicate the usual 3 days a week.
Forget about Junk Food
Likewise, if you are losing weight, then don't negate your effort with bad nutrition. Avoid fast food and fizzy drinks like cola. Synthesized food invented only to be tasty is a no-no. Remember that nutrition has to give you energy above all and not necessarily be delicious.
Know Your Normal Proportions
Although girls are mostly addicted to losing weight we strongly recommend consulting a nutritionist and finding out your minimal weight to height ratio in order to set healthy goals. Remember that it is super unhealthy to starve.
In order to consume fewer calories with more kick, you should eat high protein food. For example, boiled eggs or fat free meat will not harm your diet, no matter how much you eat.
Choose Exercises according to Your Situation.
For instance a handstand (against the wall) can pump those back muscles up if your spine starts to get all crunchy. Only 3 times a day for 1 week can get it in shape again. Jumping jacks are a great start for the morning. It only takes a couple of minutes to workout your calves and they will really benefit even from such a short session. One of such situational exercises can be taking a foot route to or from your campus. Maybe, a jog rather than a stroll back from classes and right into the shower.
If you have to read a passage from a book as a home assignment, you can take the book along with you into the gym and read it on a treadmill, continuously walking towards it.
To finalize, view your fitness routine as positive activity rather than a chore. It is meant only for your benefit and you can learn to feel gratified after a workout. There is no better way to fight everyday stress than physical activity so you should definitely go for it.
This article has been written by WorldEssays.com writers.