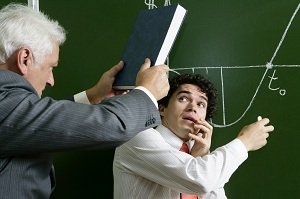 At teens, it sometimes seems to be too complicated to deal with the world of adulthood. Sometimes it feels like your family, friends and teachers are simply going mad and making your life difficult. And you can do nothing about that. Every other contact with people around you feels like a personal attack. How to deal with the situation when it seems like your teacher hates you?
Make sure to never talk back to your teacher for it will make you look and sound very rude. Instead of talking back to your tutor, make sure to just say that you are truly sorry and you're not going to do that again. In case you didn't do something that your college tutor is blaming you for, say that you are sorry and it will never happen again. Even in case your teacher is sure that you did something wrong, and you know it's not your fault, why would you bother yourself with arguing?
How about playing a matchmaker game? What if your tutor is grumpy only because she or he has a really poor love life? Of course, you prefer to not even think about your teacher having personal life outside of the college, but he / she is a human being and that's a fact. Let's say Biology teams Cumberstone would be a perfect match for the English teacher Smith. Make certain to tell Ms. Cumberstone that you are absolutely sure that you saw an extra ream of paper in the room of Mr. Smith and that you are 100% sure that he'll definitely share because he's so generous. What you're supposed to do next is to just step aside and watch the sparkles flying high.
If you feel like there's no way out of the situation, think about switching out of the class. On the one hand, it is a pretty obvious solution but sometimes it's the only one. A lot of schools provide a so-called trial period. During this time any student can both take and drop any class within the set time frame. This is a unique opportunity to get a feel for both – the professor and the class, and in case something is not up to your preferences, you can switch out any time.
Private conversation with the tutor is something that may help you to ease the situation. In case you think there is a serious problem between you two, you can always talk to her / him and ask why she / he treats you that way. It is always better to have a little talk to your college tutor tet-a-tet in order to end the problem.
In case trying to talk to your teacher fails, make sure to talk to your academic guidance counselor. Choose this option as your last chance to cope with the conflict since it involves sharing the problem with the other people. If you keep it between you and the tutor, it will be perfect. However, if you feel like you can't handle it on your own, the third party may be the best resource for help.
This article has been written by WorldEssays.com writers.