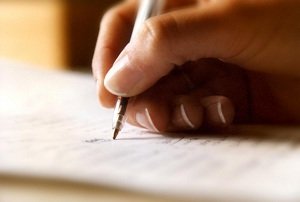 As a rule, the deadline given by the college professor for the thesis paper is up to two weeks. However, students tend to leave it up to the last minute and if the deadline is not more than two weeks, consider that you have only one week to cope with the research, outline, draft and the writing process. It is your number one responsibility to manage your time wisely in order to do the assignment in a week.
Within One Day: Receive the Task
Once you're provided with an assignment to complete the thesis paper, make certain to start performing research within 1-2 days. It is highly important if you want to write the paper within the deadline. By performing your research as early as you can you will be able to stay on track as well as get inspired for the writing process.
Within Three Days: Make the Outline
Till this moment you are supposed to be done with the research phase and proceeding to making an outline. What you are required to do is to sort out the data you have collected and made a decision on how you are going to organize it within your project. Make sure to put aside any research that is too complicated to defend or not coherent. Instead, choose found solid piece of evidence that will back up your thesis.
Speaking of the thesis statement this is the exact moment when you need to start putting all its elements together. Depending on how you decide to work, outline first thesis later or vice versa, you will need to concentrate on it for these three days. At last a solid thesis will determine the overall paper quality. Thus, make sure to take enough time and use it productively when composing the thesis. And do not remember to revise it regularly.
Within Two Days: the Writing Process
In case you haven't begun to write the thesis paper yet, make sure to get on it. If you have been working hard on the outline for the paper, the actual composition part must be as easy as pie. Make certain to use solid clinchers in order to link your paragraphs, and do your best to work in accordance with 5 Paragraph Rule.
A Day Before the Deadline
In an ideal world, you are happy and relaxed when this moment comes because you coped with all the previous tasks a day before. However, almost 95% of college students leave the final revisions until the last day of the set deadline. It is recommended to approach someone from your college group to review your thesis paper with a fresh look, because after exhausting week of endless writing you might miss several mistakes while checking the text yourself.
The Due Date!
You haven't even noticed that week passing by in a flash, but till this moment your thesis paper should be written and reviewed from A to Z. Make sure it involves all the required elements, cited works and properly organized title page.